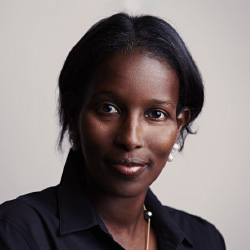 I was born in Somalia and grew up amid pervasive Muslim anti-Semitism. Hate is hard to unlearn without coming to terms with how you learned it.
I once opened a speech by confessing to a crowd of Jews that I used to hate them. It was 2006 and I was a young native of Somalia who'd been elected to the Dutch Parliament. The American Jewish Committee was giving me its Moral Courage Award. I felt honored and humbled, but a little dishonest if I didn't own up to my anti-Semitic past. So I told them how I'd learned to blame the Jews for everything.
Fast-forward to 2019. A freshman congresswoman from Minnesota has been infuriating the Jewish community and discomfiting the Democratic leadership with her expressions of anti-Semitism. Like me, Ilhan Omar was born in Somalia and exposed at an early age to Muslim anti-Semitism.