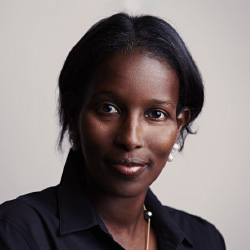 Lia Thomas should not compete against women
When Ketanji Brown Jackson refused to define the word "woman" during her confirmation hearing on Tuesday, the US Supreme Court nominee put it down to the fact that she is "not a biologist". She is also clearly not a sports fan.
A few days before her hearing, the National Collegiate Athletic Association (NCAA) Division I 500-yard women's freestyle race was won by an athlete named Lia Thomas. Looking at the medal presentation photographs afterwards, you don't have to be a biologist to see that something is amiss. Huddled together on the right-hand side, on the number three podium, are three young women. The number two position is empty. To the left stands the winner, on the first place podium: to my eyes, a strapping lad, albeit in female attire and with long hair. I clearly have no hope of a place on the Supreme Court.
Lia Thomas, born William Thomas, has undoubtedly had an impressive swimming career. William started competing from the age of five, was All-American in high school and went on to follow in his older brother's footsteps by swimming for the University of Pennsylvania. For three years, William was one of the stars of the men's team.
But in 2018, William declared that he was, in fact, Lia and, in May 2019, began taking hormones to suppress testosterone. Thomas has not yet "fully transitioned", and still has male genitalia. However, last year Thomas was allowed to switch to Penn's female swim team and has since competed as a woman.
Original Source