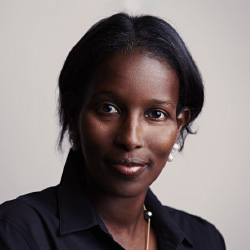 One of the suspected Boston bombers was a naturalized citizen, and the other was on his way. Ayaan Hirsi Ali, herself a new citizen, asks how we might change the process of becoming an American to exclude those who hate America.
On April 25, 2013, I took the oath to become a citizen of the United States. Perhaps only those who have taken this oath can fully understand how I felt that afternoon in Boston. I felt a strong sense of belonging, and tears welled up in my eyes more than a few times during the hourlong ceremony.
I have no reason to doubt that the 1,834 other men and women who took the oath with me also felt that special sense of homecoming. On that sunny afternoon, it seemed unreal that just 10 days earlier, another new citizen of this country had taken up arms against it—against us—in the very same city.
As the whole world now knows, that new U.S. citizen was Dzhokhar Tsarnaev, only 19 years old. He had taken the oath just seven months earlier—on Sept. 11, in fact, a grim irony whose lessons we are still struggling to learn. His alleged partner in crime and mentor was his elder brother, Tamerlan Tsarnaev, who himself had applied for citizenship and was well into the process, awaiting approval and the invitation to take the same precious oath.