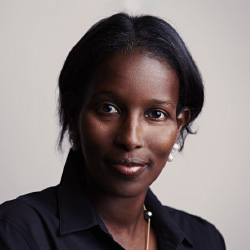 Like Salman Rushdie, I choose freedom
Thirty-three years ago, when I was a teenager in Nairobi, I was a book burner. The year was 1989, the year of the fatwa against Salman Rushdie, and I was seduced by the rising tide of Islamism. I greeted the fatwa with glee.
I rarely burnt actual books: we were too poor to afford a copy of The Satanic Verses. Instead, we wrote the title of the offending novel and the name of its author on cardboard and paper and set them alight. It was comical and pathetic. But we were deadly serious. We thought Ayatollah Khomeini was standing up for Islam against the infidels, bringing down the righteous fury of Allah upon a vile apostate. Had Rushdie been attacked then, I would have celebrated.
In the decades since, I have been a refugee, an atheist and a convert to the highest ideals and values of the West: free speech, freedom of conscience, the emancipation of women, and a free press. When I fled from a forced marriage and made a life in Europe, I was bewitched by the culture of freedom. But I still remember with a shudder my time as a pious believer on the verge of fanaticism. I know all too well how righteousness in the name of Islam motivates those who inflict violence on supposed infidels.
Original Source